Travel Guides
Europe
Portugal
Disclaimer: Some of the links in this post are affiliate links, meaning that if you click through & make a purchase, I will receive a small commission at no extra cost to you. Thank you for your support!
Are you ready to embark on a thrilling journey from the bustling city of Lagos to the serene coastal town of Sagres? Then you're probably wondering about the different ways you can get from Lagos to Sagres.
The route from Lagos to Sagres spans approximately 20 miles (32 kilometres), offering a picturesque drive through the heart of the Algarve region. Along the way, you'll encounter charming villages, dramatic coastal landscapes, and historical landmarks.
With its rugged cliffs, pristine beaches, and a rich maritime history, Sagres promises an unforgettable experience. I spent 6 weeks travelling Portugal and during this time I travelled from Lagos to Sagres multiple times.
So, if you're ready for a trip filled with adventure, natural beauty, and cultural discoveries, join me as I unveil everything you need to know about getting from Lagos to Sagres.

How to get from Lagos to Sagres
There are a couple of ways you can travel from Lagos to Sagres including by bus and car. Each option takes a different amount of time and has a different cost so it's a good idea to assess the different alternatives so you can decide which option is best for you and your travel plans.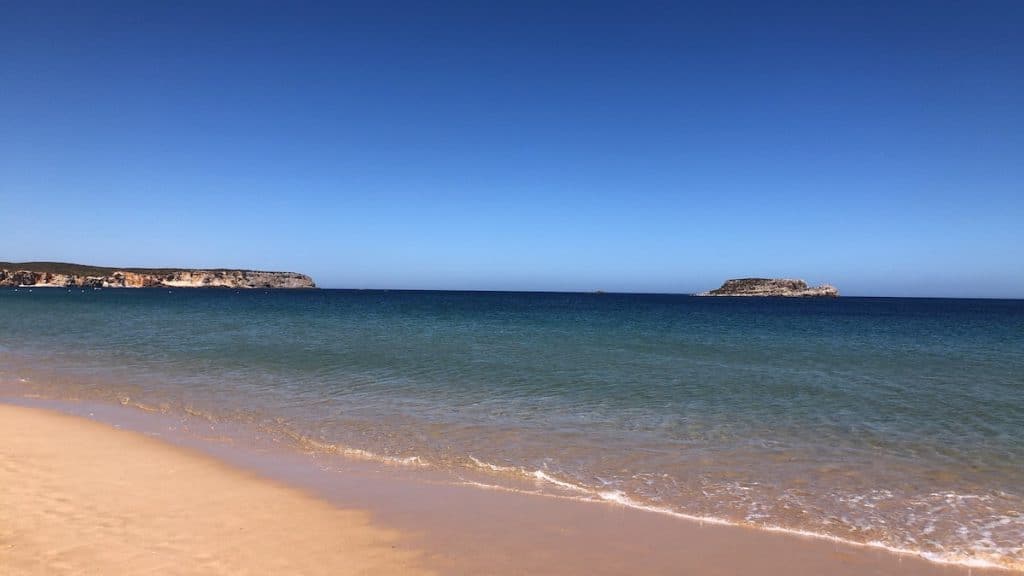 Getting the bus from Lagos to Sagres
As you glide through the Algarve region, you'll catch glimpses of charming villages and dramatic coastal landscapes that seem straight out of a postcard.
What's more, taking the bus offers the freedom to soak in the sights without the stress of driving. Plus, you can relish every twist and turn of the road, with someone else doing the steering. It's a win-win!
Catching the bus is how I travelled between Lagos and Sagres and it was very easy. The buses are frequent enough that they aren't too full and you don't have to worry about purchasing a ticket in advance.
In fact, when I caught these buses I just showed up at the bus stop and bought a ticket when I got onboard the bus. I also found the tickets to be cheaper as you can catch the local bus so if you're on a budget and aren't too worried about winging it a bit then this could be the way to go.
The journey can take anywhere from 50 minutes to an hour and 10 minutes depending on how many stops the bus makes on the way.
If you'd rather be a bit more organised however, that's totally understandable! You can book your bus tickets ahead of time on Omio for around €10, the price can fluctuate slightly depending on the day but only by a euro or two.
The buses found on Omio are also quicker, with a journey time of 35 minutes. They do run less frequently than the local buses though so bear that in mind.
Both buses depart from the Lagos Bus Terminal (Rodoviario). Rome2Rio is another handy resource for checking the bus times, you'll find the local buses here.
Overall catching the bus is a pretty easy way to travel from Lagos to Sagres and vice versa.

Getting the train from Lagos to Sagres
Unfortunately, there is no option to travel from Lagos to Sagres by train.

Driving from Lagos to Sagres
One of the major perks of making this journey by car is the opportunity to witness the breathtaking beauty of the Portuguese coastline. As you wind your way along the scenic roads, you'll have the chance to stop at some of the most stunning viewpoints, capturing Instagram-worthy moments that will leave your friends in awe.
Don't forget to pack your camera; those dramatic cliffs and azure waters deserve a spot in your travel album. And hey, no need to adhere to someone else's schedule—your adventure unfolds at your own pace.
If you can't wait to get to Sagres then you can drive all the way there in 30 minutes (without traffic of course). Travelling by car gives you the flexibility to leave whenever you want and not be reliant on bus times. It is a good option if you're only planning on staying in Sagres for 1-3 days and want to make the most of your time there.
Sagres, while small, can be a pretty quiet place so having a car allows you to explore beaches that aren't as accessible to travellers who are getting around on foot or by bike. There are some real hidden gems near Sagres that are worth exploring!

Travelling from Lagos to Sagres by car involves being a bit more organised, you'll want to book your rental car ahead of time to avoid any disappointments or higher prices.
You also want to be aware of the rental requirements for example, whether you need an international driver's license or not (if you don't need one to hire the car, it's good to get one regardless for travel insurance purposes).

What is the cheapest way to get from Lagos to Sagres?
The cheapest way to get from Lagos to Sagres is definitely by bus however it isn't necessarily the fastest so it will depend on how much time you have on your trip to Sagres.
For the truly frugal traveller, carpooling with fellow adventurers might be the ultimate solution. It allows you to share expenses with like-minded travellers on your way to Sagres.
If you're not sure how to find other travellers who might be interested, start by asking around at your hostel (if you've read other posts on my blog you'll know I'm a big fan of staying in hostels when travelling solo for this exact reason). If that fails then another great way to get others on board is to post in a local Facebook group, expat pages tend to work well or you could even jump on Bumble BFF to find new friends.

How to get from Lagos to Sagres FAQ

Is it possible to do a day trip from Lagos to Sagres?
Are you eager to explore the stunning beauty of Sagres but short on time? The burning question on your mind might be, "Is it possible to do a day trip from Lagos to Sagres?" Well, good news—it's absolutely doable!
The journey from Lagos to Sagres is a mere hop, skip, and jump away. Covering a distance of just 32 kilometres, you can easily make it a day trip. Start your adventure early, and you'll have ample time to savour the coastal wonders of Sagres.
Set out in the morning and you'll be on the road, tracing the stunning Algarve coastline in no time. And with the convenience of modern transportation, it's smoother than ever.
So, to answer your question—yes, a day trip from Lagos to Sagres is not only possible but I would highly recommend it. It's a whirlwind of adventure and beauty that will leave you with cherished memories of Portugal's coastal magic.

Is Sagres worth visiting?
100%! If you're the kind of person who likes to escape the crowds and discover hidden gems then Sagres is the perfect destination for you. In fact, I wrote a whole blog post on why Sagres is worth visiting!
Sagres is a place where rugged cliffs dramatically meet the endless expanse of the Atlantic Ocean, creating jaw-dropping scenes that will leave you in awe. The coastal views are nothing short of breathtaking, making it a paradise for nature enthusiasts and photographers alike.
But it's not just about the incredible views. Sagres boasts a rich maritime history, having once been a hub for explorers during the Age of Discovery. Visiting the iconic Fortaleza de Sagres (Sagres Fortress) will transport you back in time and give you a glimpse into Portugal's past.
For adventurous travellers who can't sit still (you know who you are), Sagres offers thrilling opportunities for surfing, hiking, and discovering hidden beaches.

What is better Sagres or Lagos?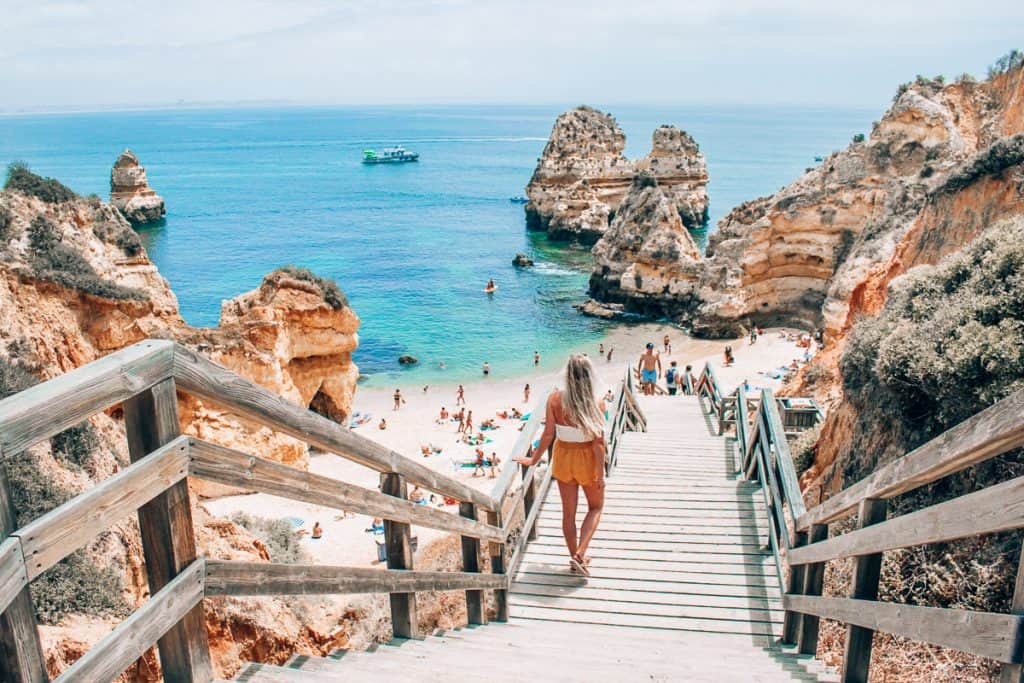 Now this is a tough question to answer because personally I love both but for different reasons.
Lagos, with its vibrant atmosphere, is a bustling coastal town that offers a bit of everything. It's a lively hub for nightlife, with its bustling bars and restaurants, perfect for those seeking entertainment after dark. The charming old town is a treasure trove of history and the stunning cliffs beckon adventurers for boat tours and cave exploration.
On the other hand, Sagres is a quieter, more laid-back destination. This coastal haven is ideal for those seeking tranquillity and natural beauty. With its rugged cliffs, pristine beaches, and the iconic Fortaleza de Sagres, history and scenery collide in a mesmerising way.
In Lagos, you'll find a wider range of accommodation options and more diverse dining choices, catering to various tastes and budgets. Sagres, while quieter, offers a sense of unspoiled authenticity and an escape from the crowds.
Ultimately, the choice between Lagos or Sagres depends on your preferences. Lagos is perfect for those who crave a blend of history, nightlife, and a vibrant atmosphere. Sagres, on the other hand, is a serene sanctuary for nature lovers and those who seek a deeper connection with Portugal's coastal beauty.

How long to spend in Sagres?
The ideal duration largely depends on your travel style and interests. If you're a nature enthusiast, Sagres offers a plethora of outdoor activities, from hiking along the dramatic cliffs to surfing on the wild Atlantic waves. To fully immerse yourself in the natural wonders, a stay of 3 to 4 days is perfect.
For history buffs, the historic Fortaleza de Sagres and the nearby Cape St. Vincent, known as the "End of the World," are must-visit sites that can be explored in a day or two.

However, if you're seeking a tranquil escape from the hustle and bustle of daily life, a week in Sagres might be just what the doctor ordered. It allows you to savour the unhurried pace, soak up the sun on pristine beaches, and savour local cuisine at a leisurely pace.

How long does it take to get from Lagos to Sagres?
Obviously the answer to this question will depend on the mode of transport you choose but as a rough guide, by car, you can expect a scenic drive that clocks in at around 30 – 40 minutes, depending on traffic and your chosen route. It's a journey filled with winding roads and breathtaking views so you might want to make a few stops along the way.
If you're opting for public transport, there are bus options available. The bus ride on one of the local buses typically takes a bit longer due to multiple stops along the way, averaging around 1 hour. There are some faster buses that will get you there in 35 minutes which you can book through Omio.

Conclusion: How to get from Lagos to Sagres

In conclusion, the journey from Lagos to Sagres is a delightful excursion along the stunning Algarve coast, offering various travel options to suit your preferences.
Ultimately, the choice of how to get from Lagos to Sagres is yours, tailored to your travel style and priorities. Whether you're an adventurer craving a road trip or a budget-conscious traveller exploring by bus, the journey itself is a memorable part of the experience.
I guarantee that Sagres is a place you won't forget any time soon and it's worth making the extra trip to experience it. Soon you'll be longing to go back!