Travel Guides
Europe
Portugal
Disclaimer: Some of the links in this post are affiliate links, meaning that if you click through & make a purchase, I will receive a small commission at no extra cost to you. Thank you for your support!
Are you planning a trip to Portugal and wondering to yourself 'Is Sagres worth visiting'? As someone who lived there, let me break it down for you and help you decide!
Ah, Sagres. The name alone conjures up images of rugged cliffs, crashing waves, and salty sea air. But is this sleepy town in the south of Portugal really worth a visit?
Well, let's just say that if you're looking for a place to kick back and relax with a cold beer in hand while watching some of the world's best surfers ride giant waves, then Sagres is definitely your spot.
I spent some time living in Sagres while I volunteered at a surf hostel and I can tell you, it is definitely worth visiting. But don't just take my word for it – read on to discover why Sagres should be on every traveller's bucket list!

Is Sagres worth visiting?
Nestled on the southwestern tip of Portugal, Sagres stands as a captivating destination known for its enchanting beauty and rich history. This coastal gem entices visitors with its pristine beaches, dramatic cliffs, and breathtaking landscapes.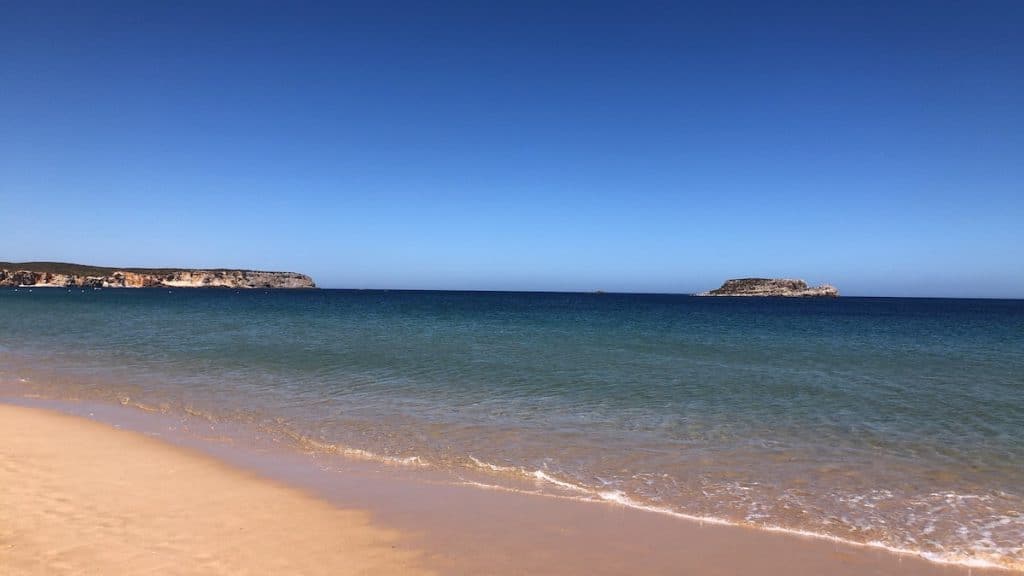 The Good Stuff – Reasons why you should visit Sagres

1. The beaches are stunning
One of the best things about Sagres IMO is it's smaller and less touristy than its larger counterpart, Lagos. Plus it's just as beautiful if not more due to the unspoiled beaches – Praia do Barranco, Praia do Beliche and Praia do Martinhal were some of my faves.
On a summer afternoon, one of the best things to do was to grab a cold beer at the local Spar and go sit on the cliffs overlooking the beach and watch the sun go down. Praia do Mareta was a good spot given its close proximity to the town. Given summer is peak season, the lack of people around makes it that much more serene.

2. Sagres is known for its great surfing conditions
For the surfers out there then Praia do Tonel was a great spot to go if you didn't want to travel too far. There are a bunch of different surf schools in Sagres too and it's possible to sign up and do a surf camp week, it's a fantastic way to meet people and have a bunch of fun, all while learning to surf!
I volunteered at Algarve Surf Hostel and they offered surf lessons for beginners and intermediates so there were plenty of options if you've been on a board before. After a few days here, you'll see why surfing in Sagres is so popular, not only are the beaches stunning and uncrowded but the town has an incredibly laid-back vibe about it.

3. The town is fun to explore
The town itself is super cute and exudes a laid-back coastal vibe, with quaint shops and inviting cafes dotted along its picturesque lanes. Expect cobblestoned streets and different coloured houses.
I loved wandering around and getting lost, you never knew what you'll stumble across! Sagres's warm and welcoming atmosphere sets the stage for a truly enjoyable exploration.

4. Cabo de São Vicente is a must visit
Another Sagres must-do activity is visiting Cabo de São Vicente. It is known as the southwesternmost point in Europe aka the 'End of the World'. The views here are stunning! Be sure to head here at sunset and prepare to have your breath taken away (not over-exaggerating here).

5. Sagres has a rich history
The Fortaleza de Sagres is also located around here, so you can head here before sitting back to enjoy the sunset. Built in the 25th century, this fortress holds a lot of history. Sagres stands as a place of historical significance, deeply intertwined with Prince Henry the Navigator and Portugal's Age of Exploration.
This coastal town played a pivotal role in shaping the course of maritime history. It is a testament to the region's storied past, inviting visitors to step back in time and immerse themselves in its historical significance. It's possible to enter for a small fee.

6. The food is delicious
Sagres is a fantastic place to Indulge in the local cuisine, where fresh seafood takes centre stage. Treat your taste buds to succulent grilled fish or traditional Portuguese delicacies, paired with a glass of Sagres's renowned local wine.

The Bad Stuff
The thing about Sagres is it's known for being pretty windy, which can either be good or bad depending on how you look at it. Sagres is rather exposed, hence the wind but it can also get pretty warm in Portugal during the summer so the wind does help to keep things a bit cooler.
On the other hand, the wind is just a bit frustrating but hey, you're going to have an excuse for a bad hair day!
Secondly, if you're the kind of person who loves the hustle and bustle of a city then Sagres probably isn't going to be for you. The town is pretty small which means limited food and accommodation options compared to the likes of Lagos or Lisbon.
Don't go expecting an array of nightlife options here either, the town has 3 bars and they are literally right next to each other on the same street.
It does make for a rather fun experience though! On a night out with friends I'd made at the hostel we would hop between the different bars depending on what music they were playing. You didn't have to venture far at all to find your favourite tunes.

The Bottom Line: Is Sagres Worth Visiting?

With its blend of history, natural beauty, and culinary delights, Sagres town promises an unforgettable experience. Yes, there are a few downsides but what place doesn't have those? It really comes down to what's important to you in a holiday (for me it's the beach!).
In essence, Sagres is a harmonious blend of natural wonders, cultural heritage, and coastal splendour. With its idyllic charm and unique offerings, it has rightfully earned its place as a must-visit destination for travellers seeking an unforgettable experience along the picturesque Portuguese coast.
As someone who loves the coast and prefers a small town over a large city then I can say with confidence, yes Sagres is worth visiting! And if you happen to be a surfer then you ABSOLUTELY have to visit Sagres.

Sagres FAQ

Where to stay in Sagres?

Although small, this captivating coastal town offers a range of accommodation options to suit every traveller's preferences and budget.
For those seeking a luxurious retreat, there are some resorts and boutique hotels that provide a seamless blend of comfort and elegance. Indulge in lavish amenities, breathtaking ocean views, and impeccable service as you immerse yourself in the tranquil ambience of these high-end establishments.
If you're a nature enthusiast or a budget-conscious traveller, Sagres also offers a selection of cozy guesthouses and charming bed and breakfasts. These accommodations provide a warm and welcoming atmosphere, often surrounded by beautiful gardens or located within walking distance of the town's main attractions.
For a more immersive experience, consider staying at one of the surf hostels and try your hand at some surfing lessons. There are a few hostels that offer surf camp packages where you often stay for a week or so. It's a fantastic way to get to know the town, make friends and of course perfect your surfing skills!
No matter where you choose to stay in Sagres, you'll be treated to the town's serene coastal beauty and a vibrant community that welcomes you with open arms.

Best luxury accommodation

Best budget accommodation

Best surf hostels

How to get to Sagres?
When it comes to getting to Sagres, there are several options to choose from.
If you're arriving by air, the closest international airport is Faro Airport, located approximately 120 kilometres east of Sagres. From there, you can rent a car or book an airport transfer to embark on a scenic road journey along the Algarve coastline.
I wouldn't recommend taking a taxi as this would be quite an expensive option given the drive takes about 1 hour and 20 minutes.
For those exploring Portugal by train, Lagos is the nearest major railway station to Sagres. Regular train services operate from Lisbon and other major cities, connecting to Lagos.
From Lagos, you can take a local bus to reach Sagres, situated merely 30 kilometres away. The buses run pretty frequently so you don't need to worry about booking in advance, I would just buy my ticket from the local office once I reached Lagos.
Alternatively, if you prefer the freedom of the open road, renting a car is an excellent option. The well-maintained road network allows for a leisurely drive to Sagres, with stunning coastal views along the way.

When is the best time to visit Sagres?

If you're planning a getaway to Sagres, you might be curious about the ideal time to experience this charming coastal town.
The peak season in Sagres falls during the summer months, from June to August when the sun shines brightly and the weather is warm. This period is a paradise for beach lovers and water sports enthusiasts seeking the ultimate seaside adventure.
For a more tranquil and serene experience, consider visiting Sagres during the shoulder season, which spans from April to May and September to October. The weather remains pleasant, and the beaches are less crowded, offering a serene atmosphere that's perfect for surfers looking to catch some waves.

Conclusion: Is Sagres Worth Visiting
In conclusion, a visit to Sagres is an absolute must for those seeking a unique and memorable travel experience. This coastal gem boasts an array of captivating attractions and activities that cater to diverse interests. I loved my time living here while I was travelling Portugal solo.
For history buffs, Sagres holds a significant place as the home of Prince Henry the Navigator and the starting point of Portugal's Age of Exploration. The rich historical heritage can be explored through the town's impressive fortress and the stories embedded within its ancient walls.
Nature enthusiasts will be awe-struck by the breathtaking coastal landscapes, with rugged cliffs, pristine beaches, and the endless expanse of the Atlantic Ocean. The opportunity to witness spectacular sunsets, engage in water sports, and explore the nearby natural parks adds an element of adventure and serenity to any visit.
In essence, Sagres is a destination that seamlessly combines history and natural beauty, creating an enchanting ambience that is sure to leave a lasting impression.
So pack your bags, you won't be disappointed!