Portugal
Europe
Solo Female Travel
Travel Guides
Disclaimer: Some of the links in this post are affiliate links, meaning that if you click through & make a purchase, I will receive a small commission at no extra cost to you. Thank you for your support!
So you're considering solo travel in Portugal? That's awesome, congrats! Travelling solo throughout this country was one of the best decisions I ever made, I loved every minute of it.
Solo travel in Portugal is a unique experience that allows you to discover the country's hidden gems on your own terms. From exploring the bustling streets of Lisbon to soaking up the sun on the beaches of the Algarve, Portugal has something to offer for every type of traveller.
No doubt you're wondering "Is Portugal safe for solo female travellers?" or "What are the best places to travel solo in Portugal?". I'm here to help answer all your questions so you're ready to curate your own solo trip!
Solo Travel in Portugal – The Ultimate Guide
Portugal is without a doubt one of my favourite countries in Europe. This charming place in southwestern Europe is ideal for those who want to experience the beauty of Europe as a solo traveller.
Don't worry if you speak zero Portuguese, English is pretty widely spoken and the friendly locals are always willing to help, making it easy to navigate through the country's cities and towns.

Is Portugal safe for solo female travellers?

If you're a solo female traveller planning your next adventure (or maybe it's your first ever solo trip!), safety is undoubtedly at the top of your list of concerns. While Portugal is known for its stunning scenery and rich culture, is it safe for solo female travellers?
Yes absolutely! Portugal is considered one of the safest countries in Europe, throughout my travels never once did I feel unsafe or unwelcome. The country's low crime rates and friendly locals make it a popular destination for all solo travellers.
As with any travel destination, it's important to exercise common sense and take precautions to stay safe. Stick to well-lit and populated areas, avoid walking alone late at night, and keep an eye on your belongings. But overall, solo travel in Portugal is a safe and rewarding experience, you can take my word for it!

Best places to travel solo in Portugal
When it comes to exploring Portugal alone, there's certainly no shortage of amazing places to visit!
First up, Lisbon. This vibrant city is perfect for solo travellers who want to immerse themselves in Portuguese culture. From the colourful streets of the Alfama district to the bohemian vibe in Barrio Alto plus of course, all the history this capital city holds, there's plenty to see and do in Lisbon.
Things to do alone in Lisbon
Visit Praca do Comercio
Stop by Rossio Square
Get lost in Alfama
Have a drink in Bairro Alto
Wander the streets of Baixa
If you're looking for some relaxation and beach time, make sure you don't skip a trip to the Algarve. This region boasts some of the most beautiful beaches in Europe and that is not an over-exaggeration. Expect beautiful blue water and picturesque golden sand.
Lagos is a great place to base yourself for solo travel in Portugal as it's not too hard to get to, it's busy enough to have a great buzz about it and there are some great hostels to choose from which make for a great way to meet fellow solo travellers.
Lagos was my favourite place in Portugal to travel solo and I would head back here in a heartbeat.
Things to do alone in Lagos
Walk down the steps to the famous Praia do Camilo
Visit Ponta da Piedade Lighthouse and enjoy the surrounding views
Swim at Praia Dona Ana
Wander around Lagos town and enjoy the markets by the coast
When you're done with swimming and sunbathing, for a taste of history and culture, visit Porto. This charming city is famous for its port wine and historic architecture. Not to mention that it's also an incredibly beautiful city!
As a solo traveller, you can explore the city's landmarks and museums at your own pace, and take a leisurely stroll along the Douro River. If you would rather base yourself in a bigger city like Lisbon, it is possible to take a day trip to Porto from Lisbon as well.
Things to do alone in Porto
Visit Porto Cathedral
Stroll around Ribeira
Browse Lello Bookstore
Enjoy the art at Serralves Museum
Grab a bite to eat at Mercado do Bolhão

Tips for solo travel in Portugal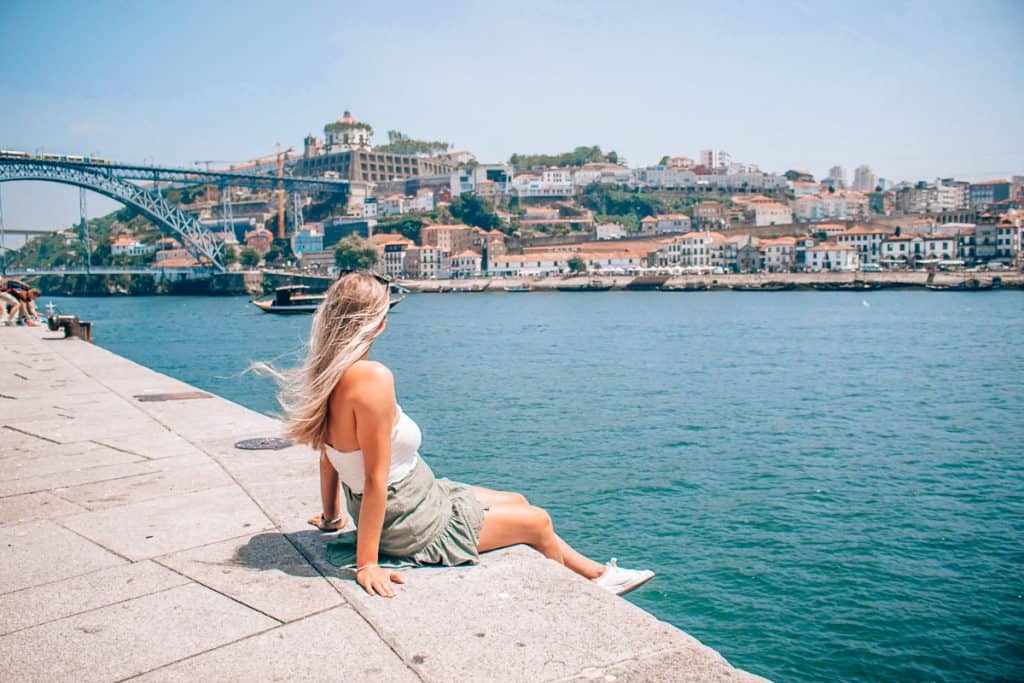 When it comes to travelling solo it's important to be prepared and take precautions to ensure a safe and enjoyable trip.
Of course, you don't have to have everything planned down to the wire as travelling by yourself does come with a lot of added flexibility as opposed to travelling in a group but it is good to have an idea of what you want to do, where you want to go and how long you want to spend in each location.
Here are some tips from my experience of travelling Portugal solo!
First and foremost, it's important to research the areas you plan to visit before your trip. This will help you decide how little or how much you want to do in a particular location and will help you determine how much time you want to spend in each place.

This doesn't mean you need to go ahead and book your bus or train tickets to get you from city to city, these are easy to buy last minute, it's more to help you calculate how much time you want to spend in Portugal so that you can get the most significant expense out of the way, flights!

These are definitely good to book in advance so you get a cheap rate and there is plenty of other cheap flight hacks out there as well.

Another essential tip for solo travel in Portugal is to stay connected. Make sure to have a working phone and internet access, whether through a local SIM card or a portable Wi-Fi device.

These days it's also possible to buy e-SIM cards for your phone before you've even arrived at your destination. Super handy as you don't need to worry about fluffing around at the airport figuring out the best SIM card deal and no added anxiety of losing your original SIM card!

This can be essential for navigating new places by yourself and staying in touch with loved ones who no doubt want to hear all about your awesome adventures.

When it comes to accommodation, strongly consider staying in hostels. Hostels are not only budget-friendly, but also offer a great opportunity to meet other travellers and possibly even find a travel buddy for a day trip or two.

I always try to stay in hostels when I'm travelling solo as they are just so much fun and a fantastic way to make friends. Do some research to check you've picked one that matches the vibe you're after and you'll be away laughing.

Be confident! Even if it takes a bit of faking it till you make it!! You will be pushed outside of your comfort zone and you will be a better person for it – trust me.

That confidence will come in handy when it comes to not being afraid to ask locals for recommendations on things to see and do. Portuguese people are generally friendly and happy to help tourists, so don't hesitate to strike up a conversation with someone.

Finally, take advantage of public transportation. Portugal has a great network of buses and trains that can take you to all the major cities and sights. It's an affordable and efficient way to travel around the country.

Best hostels in Portugal for solo travellers
As mentioned above I highly recommend staying in hostels during your solo trip to Portugal, just make sure you always check the most recent reviews are good ones.
It's also good to look for a hostel with a lively atmosphere. These hostels always tend to be more social and therefore make it easier to meet people. Pay close attention to the location as well, you want something central so you're not spending more than you need to on transport.
Extra bonus points if the hostel offers free breakfast! Even if it's basic it gives you a chance to fuel up for the day while saving you $$.
And with those things in mind, here are some of the best hostels in Lisbon, Lagos and Porto.
Best hostels in Lisbon
Best hostels in Lagos
Best hostels in Porto
Other accommodation options for solo travellers in Portugal
If you're someone who prefers their own space and isn't into the whole hostel thing, that's okay too. There are still other budget-friendly options out such as guesthouses and bed & breakfasts that won't hurt your wallet too much.
Here are some ideas:
Lisbon
Lagos
Porto

Best tours for solo travel in Portugal

For solo travellers in Portugal, there are many incredible tours that can enhance the experience and make for unforgettable memories. When booking a tour when travelling solo it's worth checking the group size as smaller groups are a bit more intimate and offer more opportunities to get to know the people you're spending the day with.

No matter what your interests are, there are plenty of tours in Portugal that cater to solo travellers.

How to get around Portugal as a solo traveller
When travelling Portugal solo public transport is going to be your new best friend! I find Rome2Rio especially helpful for planning how to get around in foreign countries.
One of the best ways to explore the country is by train. Portugal's railway network offers an affordable and convenient way to travel between cities. The trains are modern, comfortable, and offer some stunning views of the countryside. You can easily purchase tickets online or at the train station.
If you prefer to take the bus, there are several companies that operate throughout Portugal. The buses are clean, comfortable, and a great way to see some of the smaller towns and villages. The bus fares can also work out to be cheap than the train fares which is good for when you're on a budget.

Can you get around Portugal without a car?
Yes absolutely! The public transport system is fine for getting around to all of Portugal's hotspots. The only time you'll need a car is if you want to get off the beaten track but rental cars can be expensive, especially when you're travelling solo.
If you happen to make friends along the way who would be happy to split the costs then maybeee it'll be worth it but I still think public transport is more than sufficient for getting around.
It's also important to note that driving in Portugal can be a little intimidating, so you'd want to make sure you're comfortable with the rules of the road before hitting the pavement.

Is Uber cheap in Portugal?
When the only person to spilt the Uber fare with is yourself, no Ubers are not cheap in Portugal. They do however work out to be slightly cheaper than regular taxis so if you do find yourself in need of a lift then Uber is the way to go.
I managed to get around all of Portugal only ordering an Uber twice, once when I first arrived at the airport and second when I was leaving my hostel to get to the bus station because it was too far to walk with my luggage (another reason why hostel location is so important!).

FAQ: Solo Travel in Portugal

Is Portugal good for solo travel?
1000 times yes!!! And I hope this blog post has convinced you if you were on the fence because Portugal solo travel is so much fun. With the country being known for its welcoming locals, beautiful scenery, and rich cultural heritage, it's a fantastic place to explore on your own.
With a well-developed transportation network and a variety of accommodation options, getting around the country as a solo traveller is easy and convenient.

How is the experience of travelling solo?
Travelling solo for the first time can be an enriching and transformative experience and one that I so recommend everyone try at least once. It allows for complete freedom and independence to explore new places, meet new people, and immerse yourself in different cultures.
Of course, solo travel can also come with its own set of challenges and risks, such as safety concerns and feelings of loneliness or homesickness. However, with proper planning and preparation, these challenges become less scary.
Overall, the experience of travelling solo can be a rewarding and unforgettable adventure. Who knows, you might find you even prefer travelling solo!

How many days in Portugal is enough?
When it comes to solo travel in Portugal, the amount of time you should spend here really depends on what you want to get out of your trip. I spent 6 weeks week in Portugal and spent some of this time volunteering in a hostel and happily would've stayed longer but for most trips, I'd probably recommend 7-10 days.
This will allow you to visit the most popular destinations such as Lisbon, Porto, and the Algarve region. It will also give you enough time to immerse yourself in the local culture and try some of Portugal's famous food and wine. Of course, if you have more time, you can always explore further and discover hidden gems that are often missed by tourists.
In the end, the length of your stay depends on how much time and budget you have available, but a week to 10 days in Portugal is a good starting point for any solo traveller.

What is the best time to visit Portugal?

The best time to visit Portugal depends on what you want to do and see. If you are interested in beaches and outdoor activities, the summer months of June to September are ideal.
However, if you prefer to explore the cities and enjoy cultural experiences, the shoulder seasons of April to May and September to October are perfect. The weather is mild, and there are fewer crowds.
Winter is also an option for those who don't mind cooler temperatures and want to avoid the peak season crowds. You won't find much snow in the cities either due to the mild climate. Portugal is a year-round destination, and each season offers unique experiences.

Conclusion: Solo Travel in Portugal
In conclusion, solo travel in Portugal can be a fantastic experience, even if you've never travelled solo before, it's a great first-time designation. As a solo female traveller, safety is always a top concern, and Portugal delivers on this front.
It is a peaceful and friendly country, with welcoming locals and low crime rates. Plus, there are many affordable and comfortable accommodation options, making it easy to find a place to stay that suits your budget and preferences.
Of course, there are things other than safety and accommodation that make Portugal a great place to visit too. Like the delicious cuisine, with fresh seafood, pastries, and wine.
Then we can't forget the gorgeous sights to explore!
From the historic streets of Lisbon to the stunning beaches of the Algarve region. With so many unique and breathtaking destinations to choose from, you'll have no shortage of adventures to embark on during your solo trip to Portugal.
So why not take the leap and plan your solo adventure to Portugal today?