Travel Guides
Europe
Portugal
Disclaimer: Some of the links in this post are affiliate links, meaning that if you click through & make a purchase, I will receive a small commission at no extra cost to you. Thank you for your support!
Are you wondering if it's possible to take a day trip from Lisbon to Porto? Get ready to read everything you need to know if you want to make this awesome day trip.
Lisbon and Porto are two of the most beautiful cities in Portugal, each with its own charm and attractions. But if you're in Lisbon and have a day to spare, why not take a day trip to Porto?
Porto is one of the oldest cities in Europe and has a rich history and culture. This beautiful city located in the north of the country has so much to offer, from its charming historic centre to its stunning views of the Douro River.
It is also known for its wine, architecture, and stunning scenery. A day trip from Lisbon to Porto is a great way to explore this beautiful city without having to spend too much time away from Lisbon. It's also an opportunity to experience a different side of Portugal.
In this blog, I'll explain why you should take a day trip from Lisbon to Porto, what you can expect from this day trip, and how to make the most of your time in Porto.

Can you do a day trip from Lisbon to Porto?
Yes absolutely! While it might seem like a bit far to travel for a day trip, it is definitely doable and a great way to experience a different side of Portugal.
With some careful planning and time management, you can enjoy a memorable day exploring the city's beautiful sights and attractions. Travelling to Porto from Lisbon takes about 3 hours depending on your mode of transport so it will be a rather long day but it is so worth it!
I would recommend spending a night or two in Porto itself if you can as it is such a cool town but if you're limited on time then you're limited on time and a day trip from Lisbon is going to be your best option.

Is Porto worth a day trip from Lisbon?

Again yes! As I mentioned above it will be worth your while for sure. Porto is a beautiful city located in the north of the country and has so much to offer, from its charming historic centre to its stunning views of the Douro River.
Here are a few reasons why you should consider taking a day trip to Porto:
Beautiful Scenery: The train ride from Lisbon to Porto is one of the most scenic routes in Portugal. Before arriving in Porto, you'll pass through rolling hills, vineyards, and small towns. Once there, you'll be greeted by stunning views of the Douro River and the colourful houses of Ribeira.

Rich History: Porto is a city with a rich history that dates back to Roman times. Its historic centre is a UNESCO World Heritage Site and is filled with beautiful architecture and landmarks like the Porto Cathedral and São Bento Train Station.

Delicious Food and Wine: Portugal is known for its delicious food and wine, and Porto is no exception. You can't visit Porto without trying its famous port wine, which is made in the region. There are also plenty of local dishes to try, like the Francesinha sandwich and seafood dishes.
Overall, a day trip from Lisbon to Porto is a great way to experience a different side of Portugal and you'll get the best of both worlds!

Travel Guide: A day trip from Lisbon to Porto
Getting from Lisbon to Porto

Porto is about 313 km north of Lisbon, and there are several ways to get there. I find Rome2Rio an extremely helpful app for planning journeys in foreign countries.
It tells you how long it will take to get to your destination, estimate the cost and give you information on exactly what train or bus to catch. You can also put in your exact location which comes in handy when you need directions from your accommodation.

Train
Taking a train from Lisbon to Porto is a convenient and scenic way to travel with stunning views of the Portuguese countryside along the way. There are a few different options when it comes to what train to catch, basically the faster the train the more expensive it is.
The express train journey takes about two hours and 40 minutes which makes it the quickest option for getting to Porto and it costs about €31.70 for a single adult. Otherwise, you can get a longer train with more stops for around €25 but when you're limited to one day, I think you're better off going with the express train.
It only takes about 30 mins longer but when you add that up that's an extra hour of exploring (or sleeping) time you'll be missing out on. You can buy your train tickets online in advance or at the train station.
It is possible to buy a return fare which will save you a few euros. During peak season tickets can sell out so book online in advance if you can.

Bus
Taking a bus from Lisbon to Porto is also a comfortable and efficient option. The bus journey ranges from three and a half hours to over four hours depending on what bus you take, and the main bus company that operates this route is Rene Expressos.
The ticket price for an adult is €20 so it is a pretty affordable option and their buses are clean and well-maintained.
Catching the bus is how I chose to travel between Lisbon and Porto mainly because my budget was pretty tight – it was when I was travelling full-time so I was trying to stretch my money as far as it would go!
You can book your bus tickets online or at the bus station and they can be purchased up to 30 days in advance. There are a lot of buses running so you don't have to worry about all the seats booking up as much as with the train.

Car
If you prefer to drive, you can rent a car and drive from Lisbon to Porto. The journey takes just over three hours (or more depending on traffic), and there are several car rental companies in Lisbon.
However, keep in mind that driving in Porto can be challenging due to narrow streets and heavy traffic. There are also road tolls which can be expensive.

Organised tour
If you want to take the stress out of getting from A to B and back, then visiting Porto from Lisbon on an organised tour could be a good option for you. Most tour companies will pick you up from your accommodation and offer a private tour.
Some even let you customise the itinerary so it could be a great way for you and some friends to see the city (then you get the bonus of splitting the cost!). You'll also get the added benefit of a tour guide who will give you a rundown of the city's history and culture.
✅ Check tour reviews and prices here

What to see and do in Porto
To make the most of your day in Porto, it's important to plan your itinerary in advance. Choose the sights and attractions you want to see, and prioritize them based on your interests and time constraints.
What you can expect is to see some of the best sights in Porto, experience its unique culture, and taste some of its famous port wine. You'll probably meet friendly locals along the way while enjoying the vibrant atmosphere of the city, and creating unforgettable memories.

1. Stroll around Ribeira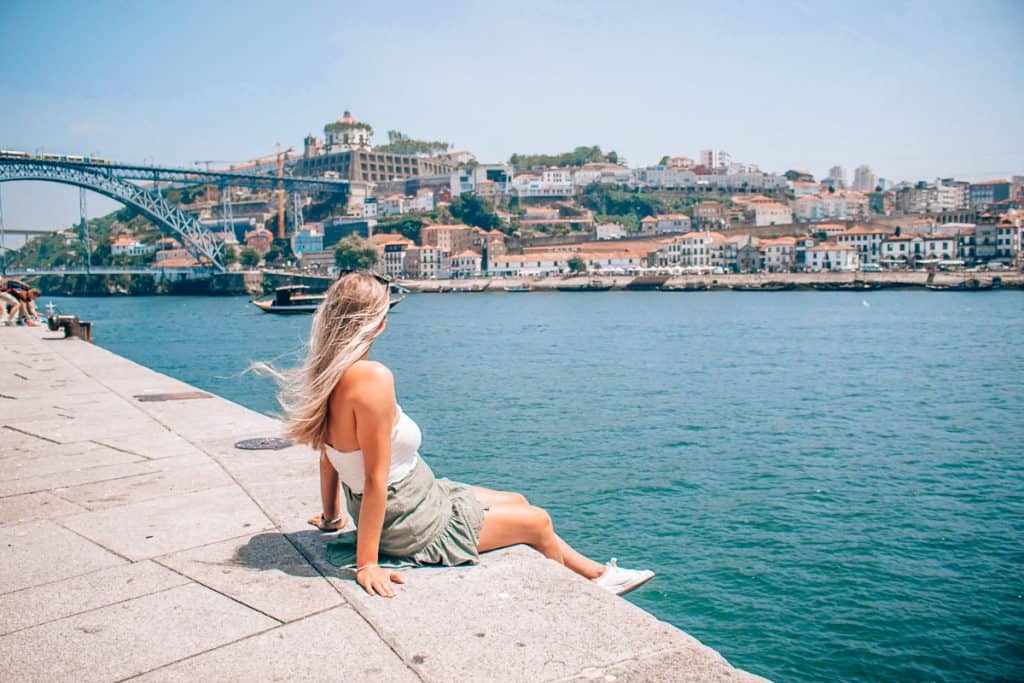 Start your day with a visit to the Ribeira neighbourhood. The Ribeira is the heart of Porto and one of the city's most picturesque neighbourhoods.
It's located on the banks of the Douro River and is a UNESCO World Heritage site. It is one of the oldest parts of the city.
Here you can wander around the colourful streets, take in the stunning views of the river, and if you haven't already eaten breakfast you can enjoy a meal in one of the many restaurants and cafes.
Otherwise, you can enjoy a coffee or a glass of Port wine at one of the many cafes, and take in the stunning views of the Douro River. It's also a great place to pop back for lunch.

2. Visit Porto Cathedral

Next, head to the Porto Cathedral (also known as the Se Cathedral), one of the most important and iconic landmarks in the city. It has been declared a National Monument and is located in the upper part of Porto.
It was built in the 12th century and is a blend of Romanesque, Gothic, and Baroque styles. Over the years, it has undergone several renovations resulting in the beautiful building that we see today.
The cathedral is also home to a beautiful cloister. The interior is decorated with beautiful azulejos (Portuguese tiles) and some depict scenes from the bible. From the square the Cathedral sits on, you can enjoy stunning views of the city and Douro River. It's a tranquil oasis in the heart of the city and a great place to relax and take in the surroundings.
Overall, a visit to the Porto Cathedral is a must for anyone interested in history, architecture, or religion. It's a beautiful and fascinating attraction that offers a glimpse into the city's rich past.

3. Take in the beauty of São Bento Train Station

After the cathedral, take a short walk to São Bento Train Station, another must-see attraction in Porto. It's possible you will have already seen the station if you're train arrived here but if you haven't then it's worth stopping by.
This historic station was built in the early 20th century and is known for its stunning tile panels that cover the walls of the main hall. The tiles depict various scenes from Portuguese history.
Visitors can spend some time admiring the intricate details of the tiles and the architecture of the station, which features a large clock and an ornate facade.
The station also serves as a hub for train travel throughout the region, so you can watch the trains come and go while admiring the artwork. It's a great place to take some stunning photos and admire the unique architecture.

4. Browse Lello Bookstore

Lello Bookstore is one of the world's most beautiful bookstores and a must-visit destination in Porto. Book lovers certainly won't want to miss it!
The bookstore opened in 1906, and is famous for its stunning Art Nouveau architecture, with intricate woodwork and a grand central staircase. Many visitors come to Lello not only to browse the impressive collection of books but also to take in the beauty of the space itself.
To avoid long queues, it's best to visit early in the morning or during the off-season.

5. Climb Clérigos Tower

One of the most iconic landmarks in Porto is the Clérigos Tower. This 76-metre-high tower offers stunning panoramic views of the city and its surroundings. The tower is part of the Clérigos Church, which was built in the 18th century in Baroque style.
To reach the top of the tower, you have to climb 200 steps, but the effort is definitely worth it. From the tower's observation deck, you can see the red rooftops of Porto's historic centre and the Douro River.
The Clérigos Tower is a fantastic photo spot and a must-visit attraction for anyone exploring Porto. It's an excellent spot to capture breathtaking photos and take in the city's beauty.

6. Visit Casa da Música
Casa da Música is a modern concert hall located in the Boavista neighbourhood of Porto. This stunning building was designed by Dutch architect Rem Koolhaas and is a must-see for any lover of contemporary architecture.
The building is home to the Porto National Orchestra and hosts a wide variety of concerts and events throughout the year. The interior of Casa da Música is just as impressive as the exterior, with a spacious and acoustically perfect concert hall, as well as several smaller spaces.
Whether you're a music enthusiast or an architecture buff, a visit to Casa da Música is sure to leave you impressed and inspired. Don't miss the opportunity to experience this stunning cultural landmark on your next trip to Porto.

7. Enjoy the art at Serralves Museum
Art lovers won't want to miss the Serralves Museum, a contemporary art museum housed in a beautiful Art Deco building surrounded by gardens is a true gem of the city.
The museum showcases a wide range of works from both Portuguese and international artists. The building itself is a work of art, with its modernist design standing out against the park's natural beauty.
The museum also hosts regular exhibitions and events, making it a dynamic and engaging destination for visitors. Don't miss the opportunity to explore Serralves Museum and immerse yourself in the world of modern art during your time in Porto.

8. Drink Port wine from one of the cellars

Finally, no visit to Porto is complete without a visit to one of the city's many port wine cellars. There are several cellars located in the Vila Nova de Gaia neighbourhood, just across the Douro River from Porto. Some popular ones include Graham's Port Lodge, Porto Augusto's and Taylor's Port.
The region is known for its production of Port wine, a sweet fortified wine that has been aged for years in oak barrels. There are many Port wine cellars along the Douro River that offer tastings and tours. You can learn about the history of Port wine, the winemaking process, and taste some of the finest wines.
It's a great way to spend an afternoon and get a taste of Porto's rich wine culture. Make sure to visit one of the cellars during your stay to experience this unique and delicious beverage.

Where to eat in Porto
Porto is a city that is well-known for its delicious cuisine, and with so many options available, it can be challenging to know where to eat when you only have one day to explore. To help you make the most of your trip, here are some of the best places to eat in Porto.

Mercado do Bolhão
If you're looking for a more casual dining experience, head to the Mercado do Bolhão. This bustling market offers a wide range of fresh produce and prepared foods, including fresh seafood, cured meats, cheeses, and bread.
On the ground floor is where you'll find local small restaurants that serve delicious homemade food at very reasonable prices.

Cervejaria Brasão
For beer lovers, Cervejaria Brasão is a must-visit. This cozy restaurant specializes in craft beer and traditional Portuguese cuisine, including francesinha.
The menu also features a variety of tapas-style dishes, making it an excellent option for sharing with a group.

Café Santiago
Another popular spot for traditional Portuguese cuisine is Café Santiago. This casual restaurant is famous for its francesinha, which is widely considered to be one of the best in Porto. The sandwich is made with layers of meat, cheese, and bread and is smothered in a rich tomato sauce. Be sure to arrive early, as the restaurant can get busy, and there may be a wait for a table.
No trip to Porto would be complete without sampling some of the city's delicious food. Whether you're in the mood for a casual meal at a bustling market or a sit-down dinner with stunning views, there is something to suit every taste and budget in Porto. So, don't be afraid to explore and try something new!

Where to shop in Porto
If you want to take a piece of Porto home with you, there are many shopping destinations to choose from. Porto is not only a beautiful and historic city, but it is also a great place to do some shopping.
Rua de Santa Catarina is a popular pedestrian shopping street with a mix of local and international brands. This street is the city's main shopping district and is home to a wide range of shops. Here you can find everything from clothing and accessories to souvenirs and gourmet food products.
Mercado do Bolhão is also a great place to shop so while you're visiting for a bite to eat you may as well have a look around. This indoor market is one of the oldest in the city and is a great place to experience the local culture and pick up some traditional goods. Here you can find fresh produce, meats, cheeses, and other local specialties.
If you happen to be visiting Porto on a Saturday then consider popping into Feira da Vandoma. Held from 7 am to 1 pm, this flea market is where you can find antiques, second-hand items, and vintage goods.

Tips for Visiting Porto in One Day

To make the most of your day trip to Porto, here are some tips to keep in mind:
Plan ahead: Make a list of the sights you want to see and prioritize them based on your interests. Make sure to leave early in the morning to maximize your time in the city, and plan to return to Lisbon in the evening. Don't forget to factor in travel time so you don't overdo it.

Wear comfortable shoes: Porto has a lot of hills and cobblestone streets, so comfortable shoes are a must.

Download offline maps: Porto can be a bit confusing to navigate, so downloading a map of the area you can use while not connected to data from google maps ahead of time is a good idea.

Take breaks and rest: Porto has plenty of cafes and parks where you can take a break and rest your feet.

Bring water and don't forget sunscreen: When travelling in the summer months it can get very hot so sunscreen is a must then water is important to have no matter the season!

When is the best time to visit Porto?
If you're planning on doing a day trip to Porto, you are probably wondering when the best time of year to visit is. While Porto is a beautiful destination all year round, certain times of the year offer more favourable conditions for travellers.
One of the best times to visit Porto is in the spring (March to May) or fall (September to November) when the weather is mild and comfortable. During these months, you can enjoy pleasant temperatures and fewer crowds compared to the peak summer season. It's also a great time to explore the city's outdoor attractions and soak up the vibrant atmosphere without feeling overwhelmed.
Summer (June to August) is the busiest time of year in Porto, with high temperatures and lots of tourists. If you don't mind the crowds and heat, this is a great time to enjoy the city's lively beach scene and take part in the many cultural events and festivals that take place during this time.
I visited Porto in July and I thought the city had such a great vibe going on.
Winter (December to February) can be chilly and damp in Porto, but it's also a time when you can experience the city's holiday celebrations and enjoy lower prices and fewer crowds. Plus, Porto's port wine cellars are a cozy place to warm up on a chilly day. You don't have to worry about it snowing in Porto either, it doesn't get cold enough.
Ultimately, the best time to visit Porto depends on your personal preferences and interests. But with its history, stunning architecture, and vibrant culture, Porto is a destination worth exploring at any time of year.

Conclusion: A day trip from Lisbon to Porto
So by now you're probably feeling confident that a day trip from Lisbon to Porto is not only doable but worth the effort! It's a great way to experience a different side of Portugal. With its charming historic centre, delicious food, and stunning views of the Douro River.
Whether you decide to take the train, bus, car, or book a guided tour, the journey to get there is part of the adventure. Don't forget to plan ahead, wear comfortable shoes, and take time to have a breather every now and then. It's a big day so don't exhaust yourself too much, the main thing is to have fun.
I hope this guide has inspired you to take a day trip from Lisbon to Porto and explore this beautiful city for yourself!