Travel Guides
Europe
Portugal
Solo Female Travel
Travel Tips
Disclaimer: Some of the links in this post are affiliate links, meaning that if you click through & make a purchase, I will receive a small commission at no extra cost to you. Thank you for your support!
Are you planning a solo trip to Portugal? Then you're probably wondering what the best hostels in Lisbon for solo travellers are. I'm here to help you out, I travelled around Portugal solo and visited Lisbon multiple times. It is such a great city and I'm so glad you've chosen it for your solo adventure!
Lisbon has become a bit of a hotspot for solo travellers seeking adventure, culture and great food. But let's not forget about the importance of finding the perfect hostel to make your trip unforgettable.
So, I've done the hard work for you and rounded up the best hostels in Lisbon! Get ready for some epic adventures because Lisbon is calling your name.

5 Best Hostels in Lisbon for Solo Travellers
Hostels are more than just a place to rest your head; they're an opportunity to meet new like-minded people, share travel stories and create memories that will last a lifetime.

Don't have time to read the whole blog post?
The best hostel in Lisbon for solo travellers is Home Hostel Lisbon because of its top-notch amenities, great atmosphere and the many excellent reviews!

When it comes to finding the best hostels in Lisbon for solo travellers, Good Morning Hostel stands out as a true gem. If you want to take all the stress out of solo travel then this is the hostel for you – you don't even have to worry about cooking any meals!
Nestled in the heart of this vibrant city right near Rossio Square, it offers an unforgettable experience with its unique blend of comfort, affordability, and a lively atmosphere.
The hostel's thoughtful amenities cater excellently to the needs of solo adventurers. Free daily breakfast includes waffles with Nutella, need I say more…!
One of the standout features of this hostel is its upbeat communal spaces. Good Morning Hostel's prime location is another reason it's a top choice for solo travellers. Situated across from Restuaradores Square, it grants easy access to the city's renowned landmarks, cultural hotspots, and bustling nightlife.
The only real downside of this hostel is the price. It's expensive compared to some of the other options out there but you certainly get what you pay for because the amenities are top-notch. Plus they offer an all-inclusive experience so you don't have to worry about forking out extra for meals and drinks.

Why it's great for solo travellers:
Free meals mean an excellent opportunity to meet people PLUS you can score unlimited sangria and beer during bar hours!!
Female-only dorm rooms are available
Lively hostel atmosphere with lots of activities

Key amenities:
Free wifi
Free meals (yes that's all 3 meals a day!)
Towels and linen
Security locker

⭐ Check Rates and Availability of Goodmorning Solo Traveller Hostel Here!

If Goodmorning Hostel is a bit out of your price range (any Kiwis and Aussies out there converting their $ to € I feel you!) then Home Lisbon Hostel is a fabulous choice!
It's a bit more affordable but still has excellent amenities and plenty happening so there's tons of opportunity to meet fellow travellers.
Situated between the Baixa and Alfama districts, it offers a captivating blend of comfort, affordability, and an exuberant ambience. It provides effortless access to iconic landmarks, cultural treasures, and lively nightlife.
You can pretty much walk everywhere you need to go, a fantastic money saver.
Mamma's dinners are an absolute hit and not to be missed! Plus for 5€ you can have a delicious breakfast or dinner for 15€.
With its ideal location, welcoming atmosphere, and remarkable amenities, it undoubtedly stands among the best hostels in Lisbon for solo travellers.

Why it's great for solo travellers:
The hostel has a restaurant and bar so you don't always have to venture out to get food
Female-only dorm rooms are available
A social environment with lots of events happening

Key amenities:
Free wifi
Linen included (towels available for hire)
Security lockers
Outdoor terrace

⭐ Check Rates and Availability of Home Lisbon Hostel Here!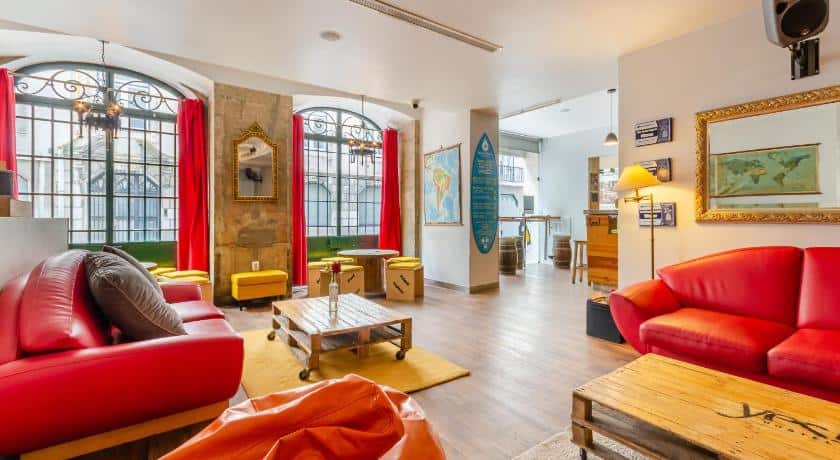 If you're seeking an unforgettable stay in Lisbon, look no further than Yes! Lisbon Hostel. With its vibrant atmosphere and exceptional offerings, it encapsulates the essence of this captivating city.
Yes! Lisbon Hostel boasts a remarkable blend of comfort and style. The hostel organises a great range of activities too. From free walking tours to pub crawls, there's something for everyone!
The hostel is famous for its dinners and the lounge and bar are great spaces to meet others exploring Lisbon.
Like the other hostels on this list, the location is excellent and you will be able to walk to all main landmarks and attractions including Praca do Comercio, Rua Augusta and Baixa Pombalina. Immerse yourself in the rich history and cultural tapestry as you wander through the charming streets, or indulge in the local cuisine at nearby eateries.

Why it's great for solo travellers:
A fantastic opportunity to meet people with a nightly pub crawl
Located near a metro station so you don't have to travel far with your bags
Friendly staff to make you feel at ease

Key amenities:
Free wifi
Linen is included
Cafe and bar
Air-conditioned rooms

⭐ Check Rates and Availability of Yes! Lisbon Hostel Here!

Lisboa Central Hostel is a fantastic affordable option and great for those looking for a slightly quieter vibe than some of the other hostels mentioned above. This charming haven perfectly combines comfort, convenience, and a warm ambience, making it an ideal choice for your next adventure.
The rooms are clean and comfortable, and the staff make you feel right at home. The beds also have curtains for added privacy and there's aircon in the rooms which is perfect for those hot summer months!
Not only do you get free breakfast but there's also free milkshakes on Mondays and free soup on selected days!
Location-wise, Lisboa Central Hostel is a little bit further out of the Chiado and Baixa districts compared to other hostels but that could be a good thing if you're after a more laid-back vibe as opposed to a party hostel.
It is right by a metro line and some bus stops so getting public transport is pretty easy if you want to save your feet for exploring the sights.
Choose Lisboa Central Hostel for an exceptional stay in Lisbon. With its comfortable accommodations and vibrant atmosphere, it stands out as a top choice for travellers seeking an unforgettable experience in the heart of this captivating city.

Why it's great for solo travellers:
A fully equipped kitchen means you can cook your own meals and save on costs
Free breakfast means a great opportunity to meet people
A picturesque terrace creates a fantastic space to spark up a conversation with someone new over a beer

Key amenities:
Free wifi and computer access
Free linen and towels are available to hire
Milkshake Mondays (who doesn't love a free milkshake?!)
Free breakfast

⭐ Check Rates and Availability of Lisboa Central Hostel Here!

Located in the heart of Lisbon, Lost Inn Lisbon is the perfect base for exploring the city's hidden treasures. With its trendy and artistic decor, this hostel oozes character and charm, all for a great nightly price!
A lot of key attractions are a 10min walk from the hostel such as the Pink Street and the famous districts like Rossio, Baixa and Bairro Alto. Don't miss Praça do Comércio, the Castle of S. Jorge, Time Out Market and the picturesque Alfama district!
The friendly and knowledgeable staff are always ready to offer insider tips and recommendations, ensuring you make the most of your time in the city. Free walking tours are on offer too.
The hostel has a lot of organised activities which is perfect for solo travellers, plus they have free sangria! Breakfast is available at an extra cost of just 3€ and is very good value.
Another good thing about this hostel is the private rooms aren't as expensive as other hostels so if you're new to hostels or would just prefer to have your own room but still enjoy the social hostel environment then Lost Inn Lisbon could be a great option for you.
Due to the location and the noise from the streets, the hostel can get a bit loud at night so if you need your beauty sleep then it's probably best to bring a pair of earplugs with you!

Why it's great for solo travellers:
Comfortable common areas provide a great space for socialising
Friendly and helpful staff who are open to giving you recommendations on where to go and what to see
Movie nights, dance nights and live music create a great atmosphere. There are also nightly pub crawls which are fantastic for making friends

Key amenities:
Free wifi and computer use
Linen is included
Dining area and well-equipped kitchen

⭐ Check Rates and Availability of Lost Inn Lisbon Here!

Tips for picking a good hostel
Look for a hostel with a lively atmosphere. These hostels always tend to be more social and therefore make it easier to meet people
ALWAYS check the reviews, and make sure the most recent reviews are good ones. If in doubt, keep looking
Go for a hostel that offers free breakfast! A must in my books, even if it's basic it gives you a chance to fuel up for the day while saving you $$
Pick something in a central location, no need to spend more money than you need to on transport

FAQ: Best Hostels in Lisbon for Solo Travellers

What are the best sites for finding hostels?
Hostelworld is hands down the best site for booking hostels in my opinion. Why? Well for starters it's right there in the name, they specialise in hostel accommodation!
Secondly, their website is extremely user-friendly and nicely laid out. It's easy to use the filters to hide any low-rated hostels and since so many people use Hostelworld for booking hostels all around the world there are plenty of trusted reviews on there from fellow travellers.
Most hostels include a detailed description of the amenities they provide and a bit about what to expect from the hostel atmosphere which is incredibly helpful as a solo traveller. You definitely want to know whether you are booking a party hostel or a laid-back hostel!
Also if your plans change you don't need to worry because they offer free cancellation. I've never had a bad experience with Hostelworld and will continue to use them for booking all of my trips.

Are hostels safe for solo female travellers?

When you're travelling solo, safety is a top priority, particularly if you're a solo female traveller. It's natural to wonder about the security of hostels, I know I certainly did when I was new to staying in hostels!
After travelling solo all over the world for a year, I can however tell you with confidence that yes, hostels are safe for solo female travellers, you just have to make sure you do your research and book a trustworthy hostel, then you'll be fine.
Hostels have come a long way in terms of security measures. Many hostels now offer keycard access, lockers, and 24-hour staff presence. These measures ensure that your belongings are safe and provide a comforting sense of protection.
Plus a lot of hostels now provide female-only dorms, offering an extra layer of comfort and peace of mind. There's nothing wrong with choosing these over a mixed dorm if it makes you feel more comfortable. I would often opt for a female-only dorm where I could.
So, to all my fellow solo female travellers out there, go embrace the hostel experience!

Is Lisbon safe to walk at night?
Curious about exploring the nocturnal allure of Lisbon? Fear not, for this vibrant city is known for its safety, even after the sun sets. While it's always wise to exercise caution in any urban environment, Lisbon generally offers a secure environment for nighttime strolls.
Lisbon's well-lit streets and bustling neighbourhoods create a lively ambience that continues into the late hours. The city's friendly locals contribute to the overall sense of safety, ensuring you can enjoy your evening escapades with peace of mind.
That said, it's essential to stick to well-populated areas and avoid dimly lit or deserted streets, as you would in any major city. Be mindful of your surroundings, keep your belongings secure, and trust your instincts.
To enhance your safety, consider joining guided pub crawls, walking tours or group activities during the evening. Not only will these experiences prove insightful and provide a sense of security, but they also offer a fab opportunity to meet fellow travellers.
Wander wisely!

Is Lisbon a safe city to travel to?
Yes absolutely! With its vibrant streets and warm-hearted locals, Lisbon welcomes travellers with open arms.
Lisbon boasts a low crime rate, making it a secure destination for explorers. As you meander through its charming neighbourhoods and historic sites, you'll find a sense of ease enveloping you. I always felt pretty safe when I was travelling Lisbon solo.
While it's always important to take basic precautions like anywhere else, you can confidently embrace the city's enchanting atmosphere. From savouring delicious pastél de natas to admiring the breathtaking views from São Jorge Castle, Lisbon offers a wealth of experiences in a safe and inviting setting.

Is Portugal safe for solo female travellers?
Yes it sure is! Portugal has a reputation for being one of the safest countries in Europe, with low crime rates and a welcoming environment so it's a destination waiting to welcome you with open arms!
This captivating country offers a warm and friendly atmosphere, making it an ideal destination for solo female travellers. I never once felt unsafe and I travelled all over Portugal.
From the vibrant streets of Lisbon to the charming coastal towns of Porto and the picturesque landscapes of the Algarve, Portugal is a treasure trove of experiences. As you wander through its enchanting cities and immerse yourself in its rich culture, rest assured that your safety is a top priority.
As always though, be aware of your surroundings, trust your instincts, and stay informed about local customs and regulations.

When is the best time to visit Lisbon?

Being a lively city, Lisbon is great to visit at most times during the year with plenty of things to do, however, the best time to visit Lisbon is during the spring and fall seasons, when the city blooms with beauty and the temperatures are pleasantly mild.
In spring, Lisbon bursts with colourful flowers, and the streets come alive with a sense of renewal after the winter months. Autumn brings cooler temperatures and a vibrant atmosphere. The city's parks and gardens are adorned with shades of orange and gold, offering a picturesque backdrop for your explorations.
Keep in mind that summer can be hot and crowded, but it's the perfect time to embrace the energetic buzz of the city's festivals and enjoy the coastal charm of nearby beaches (a must-do if you're a water baby like me!).
For those seeking a quieter experience, Lisbon in winter offers a unique charm. The city takes on a cosy atmosphere, and you can indulge in local culinary delights while exploring historical sites at your own pace.
No matter the season, Lisbon beckons with its captivating blend of history, culture, and stunning vistas. So plan your visit to align with the seasons that suit your preferences.

Skipped to the end?
The best hostel in Lisbon for solo travellers is Home Hostel Lisbon because of its top-notch amenities, great atmosphere and the many excellent reviews!

Conclusion: Best Hostels in Lisbon for Solo Travellers
In connclusion, the best hostel in Lisbon for solo travellers is Home Lisbon Hostel! With a reasonable price tag for the range of amenities offered and a ton of top-rated reviews, it's a no-brainer.
The top-rated hostels in Lisbon fill up quickly so if you already know what dates you're planning on booking your trip then you may as well book your hostel in now so you don't miss out! Remember Hostelworld does offer free cancellation if your plans change.
Overall the hostels in Lisbon are excellent so you can't really go wrong, never have I seen so many hostels with such high ratings all in the same city!!
With Lisbon's enchanting blend of history, culture, and vibrant energy, this captivating city offers a wealth of experiences for adventurous souls and it is SO worth visiting. It's an ideal destination for solo travellers, and these hostels serve as your gateway to the heart and soul of the city.
Embrace the spirit of exploration, make new connections, and create lasting memories in the beautiful embrace of Lisbon.