Travel Guides
Europe
Portugal
Disclaimer: Some of the links in this post are affiliate links, meaning that if you click through & make a purchase, I will receive a small commission at no extra cost to you. Thank you for your support!
Planning your next Portugal getaway? Lagos vs Lisbon – two captivating destinations.
I was lucky enough to visit these stunning Portuguese cities while I was living in Portugal so join me while we work our way through the pros and cons.
Lagos, an enchanting coastal gem tucked away in the southern Algarve region, beckons with its picturesque beaches and awe-inspiring cliffs. Meanwhile Lisbon, the vibrant capital city, pulsates with history, culture and an unmistakable cosmopolitan charm.
Whether you crave the vibrant rhythm of city life or yearn for the sun-kissed shores, Lagos and Lisbon offer distinct experiences that will leave you mesmerised. Let's dive deeper into the charms of Lagos and Lisbon and uncover the ultimate destination for your Portuguese escapade.

Lagos vs Lisbon
Lagos, nestled in the scenic Algarve region, lures you with its breathtaking coastal beauty. Picture yourself strolling along golden beaches while gazing at awe-inspiring cliffs that seem to touch the sky. Lagos offers a laid-back atmosphere perfect for those seeking relaxation and tranquillity.
On the other hand, Lisbon, the vibrant capital city, pulses with energy and cultural richness. Lose yourself in the winding streets of the Alfama district, where you can immerse yourself in the soulful tunes of Fado music. Lisbon is also a wonderful city for solo travel with plenty of things to do alone!
Lisbon is a bustling metropolis where history intertwines with contemporary allure. Explore iconic landmarks such as the São Jorge Castle and indulge in the vibrant atmosphere of neighbourhoods like Bairro Alto and Baixa-Chiado.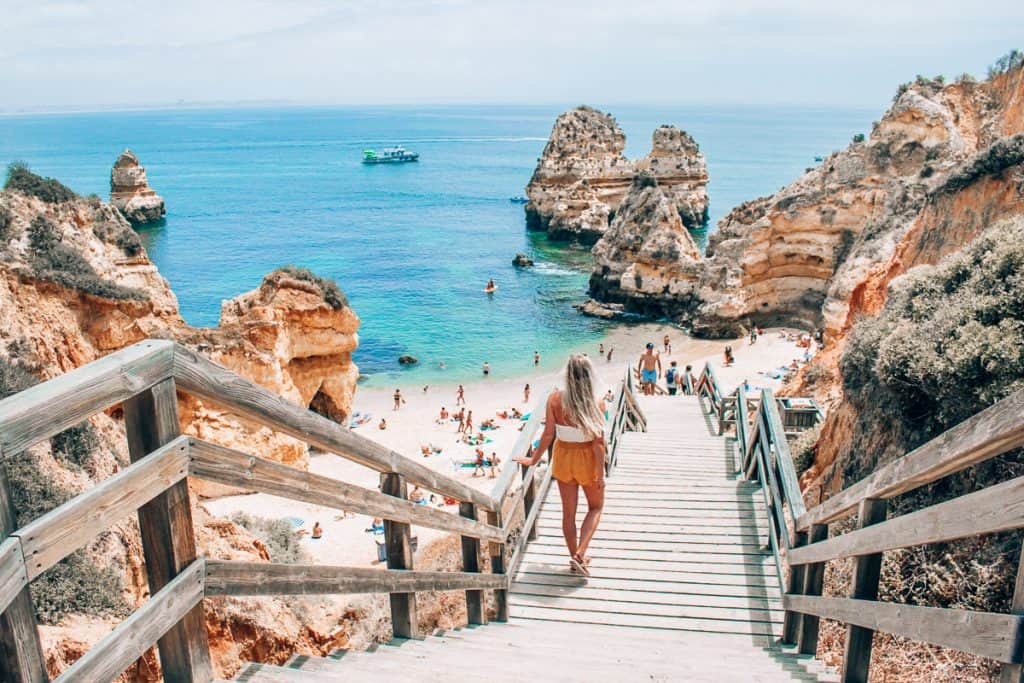 Is Lisbon or Lagos better?
Okay, this is actually a rather tough question to answer because I never used to consider myself a city person but I absolutely love the vibe of Lisbon. Then Lagos I knew I was always going to love, anywhere with a beautiful beach and I'm sold!
So when it comes down to Lagos vs Lisbon, how on earth do you pick? And which city is better?
Ultimately, the answer to the question of which is better, Lagos vs Lisbon, lies within what you want out of your holiday. Both cities are going to give you pretty different experiences. Are you captivated by the tranquillity of Lagos's natural wonders or enticed by Lisbon's urban vibrancy?
Each city offers a distinct experience that will leave an indelible mark on your Portugal adventure. So, embrace the journey, embrace the choice, and allow the magic of either Lagos or Lisbon to unfold before you. Whichever one you choose, I'm sure you won't be disappointed!

Lagos Pros and Cons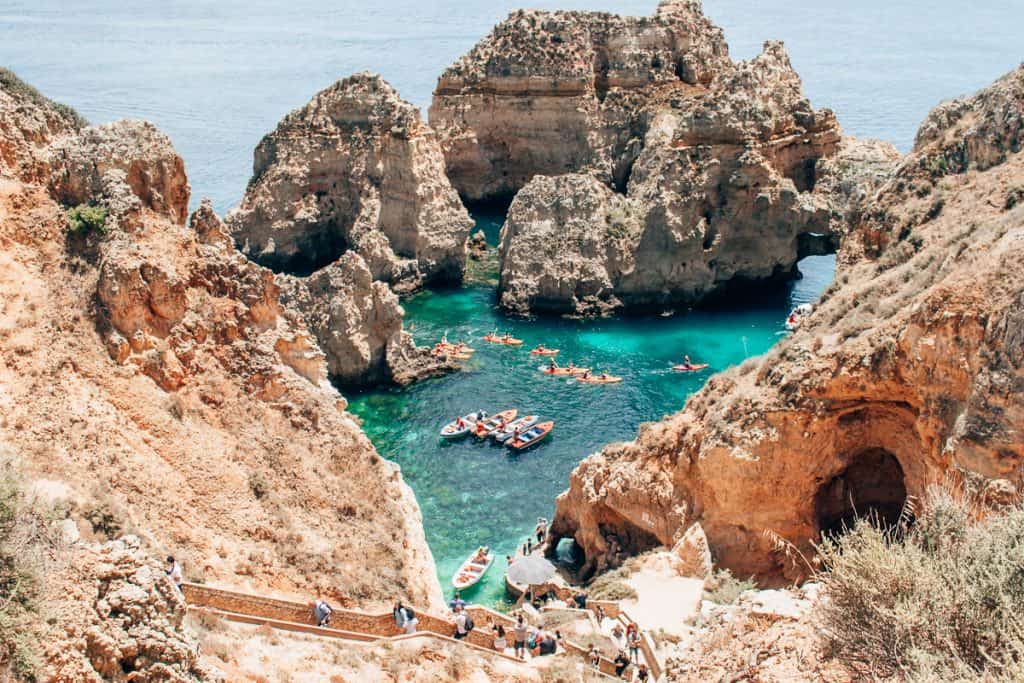 Pros:
Breathtaking Beaches: Lagos boasts stunning beaches with golden sands and azure waters. From the expansive Meia Praia to the secluded coves of Camilo Beach, there's a coastal paradise for every preference and trust me they are STUNNING.
Natural Wonders: The rugged cliffs and rock formations of Lagos, such as Ponta da Piedade, create a mesmerizing backdrop for exploration and photography.
Relaxed Atmosphere: Lagos exudes a laid-back and intimate vibe, making it an ideal destination for those wanting to relax and escape from the bustle of city life. Don't be surprised if you immediately fall in love with this beach town cause I certainly did!
Cons:
Crowds in Peak Season: During the summer months, Lagos can attract a significant influx of tourists, resulting in crowded beaches and popular attractions. Consider visiting during the shoulder seasons for a more serene experience.
Limited Cultural Offerings: While Lagos has its own unique charm, it may have fewer cultural amenities and historical landmarks compared to a bustling city like Lisbon.
Ultimately, Lagos offers an idyllic coastal retreat with its breathtaking beaches, natural wonders, and relaxed atmosphere. However, it's important to consider potential crowds during peak season and the relatively limited cultural offerings.
To me this wasn't such a big deal, even when I travelled here in peak season. I was just so happy to be in such a gorgeous location with access to plenty of beaches!

Lisbon Pros and Cons

Pros:
Rich Cultural Heritage: Lisbon is a treasure trove of history and culture, with its charming neighbourhoods like Bairro Alto and Baixa-Chiado, where trendy shops and lively cafes intertwine with historical landmarks.
Cosmopolitan Vibe: The city pulses with energy and a cosmopolitan allure, offering a dynamic blend of traditional and contemporary experiences that will captivate your senses.
Architectural Splendors: From the majestic São Jorge Castle to the iconic Belém Tower, Lisbon showcases an array of architectural marvels that reflect its rich heritage and historical grandeur.
Cons:
Crowded Tourist Areas: Popular tourist attractions in Lisbon, especially during peak season, can become crowded. It's advisable to plan your visits accordingly or explore lesser-known spots to avoid the masses. I travelled to Lisbon in July so in the middle of peak season and although it was busy, the city did have a very cool buzz about it so it can depend what you're after too.
Hilly Terrain: Lisbon's undulating landscape, while picturesque, can present challenges for those with mobility issues. Be prepared for inclines and stairs while navigating the city's enchanting streets. You'll want to pack a sturdy pair of shoes that's for sure!
Lisbon's abundance of cultural offerings, cosmopolitan ambience, and architectural splendours make it a captivating destination. However, it's important to consider potential crowds in tourist areas and the hilly terrain but don't let that put you off exploring this incredible city.

Which city is cheaper Lagos or Lisbon?
Curious about the cost comparison between Lagos and Lisbon?
When it comes to expenses, Lagos has the potential to offer a more budget-friendly experience compared to its urban counterpart, Lisbon. Accommodation options in Lagos tend to be more affordable, with a range of budget-friendly hotels, guesthouses, and apartments available.
Additionally, dining out and enjoying local cuisine in Lagos can be more cost-effective, especially if you explore local markets and sample delicious street food. Don't forget to try a bifana or pastel de nata!
On the other hand, Lisbon, being the bustling capital city, tends to have a slightly higher cost of living. Accommodation prices can be higher, particularly in popular areas such as the historic centre or waterfront districts. Dining options in Lisbon also vary, with a wider range of choices to suit different budgets.
Ultimately, the affordability of either city depends on your travel preferences, accommodation choices, dining habits, and the activities you engage in. Considering your budget and exploring various options will help you make an informed decision between Lagos vs Lisbon, ensuring a delightful and wallet-friendly experience in Portugal.

How to get to Lisbon
One huge benefit of visiting Lisbon in this Lagos vs Lisbon debate is that of course there is an international airport in Lisbon. So when you visit Portugal it is quite likely that you will fly into the capital. Overall it makes the city a very easy and convenient place to get to.

How to get to Lagos
The closest international airport to Lagos is Faro, which is about an hour's drive away. So it's not too far away but you can't fly directly into the city like you can in Lisbon.
Flying into Faro and then driving to Lagos, whether that be by hiring a car, catching a bus or organising a transfer is certainly the best way to get to Lagos.
If by the end of this Lagos vs Lisbon guide you simply can't choose between the two, then it is also possible to get from Lisbon to Lagos by bus. The journey is a pretty easy one and takes about 3 hours.

Things to do in Lisbon

From historical landmarks to cultural delights, Lisbon offers a plethora of best things to do that will leave you wanting to visit again and again. Let's embark on an adventure and explore the top highlights of this captivating city.
Immerse in History: Begin your journey by visiting the iconic Belém Tower and the grandeur of Jerónimos Monastery, both UNESCO World Heritage sites. Discover Lisbon's past at the intriguing Lisbon Story Center or explore the historical charm of the Alfama district.

Stroll through Alfresco Spaces: Bask in the beauty of Parque das Nações or enjoy a scenic ride on the famous Tram 28 through the winding streets of Lisbon's hills.

Indulge in Gastronomic Delights: Treat your taste buds to delectable Portuguese cuisine, from pastel de nata (custard tart) to bacalhau à brás (codfish dish). Venture into the vibrant food markets like Mercado da Ribeira – aka Time Out market, for a gastronomic extravaganza. Martim Moniz is also a great time and shouldn't be missed.

Experience Fado Music: Immerse yourself in the soulful melodies of Fado music. Head to Mouraria or Alfama to find intimate Fado houses and witness this heartfelt expression of Portuguese culture.

Discover Contemporary Art: Explore Lisbon's art scene at the Museu Nacional de Arte Contemporânea or venture into the trendy LX Factory for a blend of creativity and urban culture.
Lisbon offers a blend of history, culture, and delightful experiences that will ignite your senses. Embrace the charm of this remarkable city and let its magic unfold before you. From historical landmarks to mouthwatering cuisine, Lisbon promises an unforgettable journey for every traveller.

Things to do in Lagos

Beaches, beaches and more beaches! Get ready for a suntan and some serious RnR when it comes to relaxing in Lagos. Let's not forget about the delicious food and fun atmosphere either.
Explore Stunning Beaches: Lagos is renowned for its breathtaking beaches, and a visit here wouldn't be complete without basking in the sun and taking a refreshing dip in the crystal-clear waters. Don't miss the iconic Ponta da Piedade, where you can marvel at the impressive rock formations and enjoy panoramic views.

Discover Natural Wonders: Embark on a boat tour to explore the mesmerising grottoes and hidden caves along the coast. It's also possible to explore the stunning seaside on foot too. Personally, I think the best way to do this is to start your journey at Ponta da Piedade Lighthouse and then walk north, beach hopping along the way.

Uncover Historical Charm: Take a stroll through Lagos's historic centre and soak up the medieval ambience. Visit the Church of Santa Maria de Lagos to admire its architectural splendour and delve into the city's history.

Indulge in Water Sports: Embrace your adventurous side and try thrilling water sports like surfing, kayaking, or stand-up paddleboarding. Lagos's favourable wind and wave conditions make it an ideal playground for water enthusiasts.

Savour Local Cuisine: Treat your taste buds to the flavours of the Algarve by savouring fresh seafood and traditional dishes like cataplana or sardinha assada. Don't forget to pair your meal with a glass of regional wine.

Where to stay in Lisbon
Lisbon offers several delightful neighbourhoods to consider for your stay. One of the most appealing choices is the Baixa district, located at the heart of the city, where many of its key attractions reside. This area is renowned for its refined architecture, picturesque streets, and vibrant squares, making it an ideal base for exploring the city on foot.
For those seeking a lively atmosphere and an exciting nightlife scene, the Bairro Alto neighbourhood is an excellent option. This popular area is famous for its trendy boutiques, bustling bars, and a wide selection of delectable restaurants to satisfy your culinary cravings.
If you prefer a more historic and charming setting, the Alfama neighbourhood is an excellent choice. As the oldest district in Lisbon, it boasts winding alleys, vibrant houses painted in an array of colours, and a distinctive atmosphere.
No matter which neighbourhood you choose, Lisbon's diverse and captivating ambience ensures an unforgettable experience during your stay.
Best places to stay in Lisbon

Where to stay in Lagos
With its diverse neighbourhoods and stunning coastal setting, Lagos offers a range of options to suit every traveller's preferences and budget.
The Old Town is a great location, where cobbled streets, colourful buildings, and a vibrant atmosphere create an enchanting ambience. Here, you'll find a wide array of accommodations, from cosy guesthouses to boutique hotels, all within walking distance of the city's main attractions.
If you're seeking a beachfront escape, Meia Praia is the ideal choice. Enjoy breathtaking ocean views, beachside restaurants, and easy access to water sports and recreational activities.
For a blend of waterfront charm and convenience, the Marina district is a fantastic option. Stay in stylish hotels and enjoy proximity to lively bars, excellent dining options, and the opportunity to embark on boat tours and sailing adventures. It can be fairly touristy so it's perfect if you like being right in the action.
Best places to stay in Lagos

FAQ: Lagos vs Lisbon

When is the best time to visit Lisbon or Lagos?
Lisbon enjoys a Mediterranean climate, with mild winters and hot summers. The spring months of April and May bring pleasant temperatures and blooming flowers, making it an ideal time to explore the city's outdoor attractions. Summer (June to August) is vibrant and lively, with long sunny days perfect for enjoying Lisbon's beautiful beaches and vibrant street festivals.
In contrast, Lagos, located in the Algarve region, boasts even warmer temperatures. Summer (June to September) is the peak tourist season, attracting visitors with its sunny weather and inviting beaches. Autumn (September to November) offers milder temperatures and fewer crowds, making it an excellent choice for a peaceful and relaxing getaway.
Both destinations also have their unique appeal during the off-peak seasons. Winter in Lisbon (December to February) brings mild temperatures and fewer tourists, allowing you to explore the city's cultural attractions at a more leisurely pace. Likewise, Lagos in spring (March to May) offers a quieter atmosphere and pleasant weather, ideal for nature walks along the coastline.
Personally, I would visit both of these destinations in summer because I love the warmer weather and making the most of the incredible beaches but that's just my opinion! If you aren't big on swimming then you could probably take advantage of cheaper prices and quieter beaches during the shoulder season.

Is there a train from Lagos to Lisbon?
Yes there is! You can embark on a scenic train journey that takes you from the stunning coastal beauty of Lagos to the vibrant capital city of Lisbon.
Sit back, relax, and enjoy the picturesque landscapes as the train smoothly transports you between these two captivating destinations. You will need to change lines at Tunes and the journey takes about 5 hours in total.
There is also a bus that will take you between Lagos and Lisbon which is how I travelled between the two cities and it was very easy. The cost doesn't differ too much either so if you want to save yourself an hour or so then I'd recommend taking the bus.
So if you still can't decide between Lagos or Lisbon then why not do both!

Conclusion: Lagos vs Lisbon
In conclusion, both Lagos and Lisbon are undeniably awesome destinations that are well worth visiting, each with its own distinct appeal. The choice between the two ultimately depends on the type of holiday you're seeking.
If you're craving breathtaking beaches, rugged cliffs, and a laid-back coastal vibe, Lagos is the perfect choice. Its stunning natural beauty and vibrant atmosphere make it a paradise for beach lovers and water sports enthusiasts.
On the other hand, if you're captivated by history, culture, and bustling city life, Lisbon is an ideal destination. This vibrant capital city offers a wealth of architectural wonders, vibrant neighbourhoods, and a rich culinary scene that will leave you spellbound.
It is also possible to visit different beaches in Lisbon so this city could be the best of both worlds if you're super torn on what destination to visit. Otherwise, it is possible to pack a lot of things in and see Lisbon in one day if you really want to make it to Lagos as well.
Ultimately, whether you choose Lagos or Lisbon, you're in for a memorable holiday experience. Portugal is one of my favourite countries in Europe and after you visit I'm sure you'll agree!