Travel Guides
Europe
Portugal
Disclaimer: Some of the links in this post are affiliate links, meaning that if you click through & make a purchase, I will receive a small commission at no extra cost to you. Thank you for your support!
Are you thinking about surfing in Sagres? Then you've come to the right place!
I spent some time living in Sagres while I volunteered at Algarve Surf Hostel. On my days off, I had the opportunity to head out surfing with the team and even participate in the group surf lessons.
Sagres is such a fun place to visit and perfect if you're a keen surfer, in fact, that's exactly what this sleepy beach town is known for! With consistent waves, warm sunny weather, and breathtaking scenery, Sagres is the perfect destination for surfers of all levels.
Nestled at the southernmost tip of Portugal, Sagres is a surfer's paradise that attracts surfers from all over the world. Often dubbed the best place to surf in Europe and certainly the best spot in the Algarve, surfing in Sagres should be at the top of your list.

Surfing in Sagres

What makes surfing in Sagres so great? One of the biggest draws of Sagres is the variety of surf breaks available. The coastline is dotted with a diverse range of surf spots, each with its unique features and challenges.
From the powerful beach break at Praia do Tonel to the mellow point break at Praia da Arrifana, Sagres has something for everyone. But it's not just the quality of the waves that makes Sagres a surfer's paradise. The laid-back atmosphere, friendly locals, and stunning natural surroundings all contribute to the overall surfing experience.
And my favourite part? The beaches are rarely overcrowded!
This makes it perfect for beginner surfers, like myself, as if it's too crowded in the water, I'm worried I won't have enough control of the board and cross paths with someone so lots of personal space is my cup of tea.

Where to surf in Sagres
When it comes to surfing in Sagres, there are plenty of incredible surf spots to choose from. Where you choose to surf will largely depend on the conditions on the day.
Something that makes Sagres surf so great, is due to the town having both Southern and Western facing beaches, if the conditions are too rough on one side, then they'll probably be great on the other.
The best surf spots in Sagres are…
1. Praia do Tonel

Praia do Tonel is one of the most popular surf spots in Sagres and for good reason. This beach break is renowned for its consistent waves and is considered by many to be one of the best surf spots in the area. Whether you're a beginner or an experienced surfer, you're sure to find something to enjoy at Praia do Tonel.
The waves at Praia do Tonel are powerful and fast, making it an ideal spot for experienced surfers looking for a challenge. However, the beach also offers more mellow waves further up the beach, making it a great spot for beginners as well. The consistency of the waves is another major draw for surfers, with good surf conditions available year-round.
But it's not just the waves that make Praia do Tonel a great surf spot. The beach is located in a beautiful natural setting, with stunning cliffs and crystal-clear water providing a picturesque backdrop for your surf session.
Praia do Tonel is also located within walking distance from Sagres town so it's perfect for those who haven't got a rental car and are getting around on foot.

2. Praia do Beliche
When the conditions are right, the waves at Praia do Beliche are known for their power and speed, providing a thrilling ride for those looking for a challenge but this also means that it isn't an ideal spot for beginners. The best season for surfing at Praia do Beliche is actually in the winter so December through to February.
The beach is located about a 5-minute drive from Sagres Town so you'll probably want to hire a rental car if you want to pay this spot a visit. Bear in mind you have to go down some steps to access Praia do Beliche which isn't too bad on the way down but when you are climbing back up with your surfboard it can be a little tough.
The beach is situated on the west coast of Sagres, making it a great spot for catching the best swells that come in from the Atlantic. There is a restaurant here which is great for when you are in need of an energy boost to get back out on the water.

3. Praia do Zavial
This picturesque beach is situated a few kilometres east of Sagres and is a well-known surfing spot. Being an eastern beach, it's less exposed than some of the beaches in the west but it does still get good swells.
One of the things that sets Praia do Zavial apart from other surf spots in Sagres is its variety of surf breaks. Pay good attention to the conditions to assess whether this spot is going to be good for your level of expertise. It can be good for beginners but also at times, only suitable for those experienced surfers.
The beach is surrounded by stunning cliffs, which provide a dramatic backdrop for your surfing session, so whether you get on your board or not, it's well worth a visit. Overall, if you're looking for a beautiful beach with great surf, Praia do Zavial is definitely a must-visit spot when surfing in Sagres.

4. Praia do Amado

Praia do Amado is known for its consistent and powerful waves that attract surfers from around the world. The famous surf spot is suitable for all skill levels, from beginners to advanced surfers and it's possible to surf here all year round.
One of the unique features of Praia do Amado is the varied conditions that surfers can encounter on any given day. The beach is exposed to the Atlantic Ocean, making it susceptible to changing weather patterns and tides. This variability means that surfers can experience a range of wave types.
The beach is also known for its stunning natural beauty, with dramatic cliffs framing the shoreline.
Another advantage of Praia do Amado is the availability of surf schools and equipment rentals. This is where I mainly went surfing when I went out with Algarve Surf School and I found it to be a fantastic spot. It catered perfectly to the beginners in the group (including me) and the intermediate surfers.
The surf school breaks you into two groups based on your experience and skill level then you surf at slightly different parts of the beach depending on the swell. It's great because you're out with people who are on the same level as you and you don't have to worry about getting in the way of the more experienced surfers!
So whether you're a beginner looking to learn the basics or an experienced surfer looking to improve your skills, there are plenty of options available at Praia do Amado to help you make the most of your day out surfing.

5. Praia da Arrifana
Located on the west coast of the Algarve region in Portugal, Praia da Arrifana is a beach with a unique natural landscape and great waves. It's known for its mellow break which makes it popular with beginners.
The beach is framed by towering cliffs that offer stunning views of the Atlantic Ocean. It has consistent waves that break both left and right, providing an ideal surfing experience for all levels. The waves can reach up to 3 meters, which makes it a perfect spot for experienced surfers too.
What makes Praia da Arrifana special is that the beach is sheltered by the cliffs from the prevailing winds, allowing for clean and glassy conditions. The offshore wind direction also ensures that the waves are well-formed and perfect for surfing.
In addition to its surfing potential, the beach has a relaxed atmosphere and a vibrant beach culture as it's a pretty popular spot for non-surfers as well so it can get busy at times.

6. Praia da Bordeira
Praia da Bordeira, located on the west coast of the Algarve, is one of the top surf spots in Sagres. This long and expansive beach has consistent waves year-round, making it a favourite among locals and visitors alike for surfing in Sagres.
The beach is known for its powerful and fast-breaking waves, which are perfect for experienced surfers looking for a challenge. However, there are also sections of the beach that are suitable for beginners and intermediate surfers. This beach also gets a good amount of white water which again makes it good for beginners.
The beach is surrounded by stunning natural beauty, with the sand dunes and cliffs providing a picturesque backdrop to a surf session. Due to the large size of the beach, it's a great place to enjoy lots of surfing space and the peacefulness of the Algarve coastline.

Learning to surf in Sagres

As you can see from the list above of the best spots for surfing in Sagres, there are multiple options for beginners.
Sagres is an ideal destination to learn to surf, and many beginners flock to this charming coastal town to catch their first waves. With numerous surf schools and experienced instructors, it's the perfect place to start your surfing journey.
I would definitely recommend staying at a surf school in Sagres whether you're just starting out or looking to improve your skills as they are just so much fun! You get to meet like-minded people and spend time at the beach all day, sounds pretty ideal right?
At Algarve Surf Hostel where I volunteered, they offered surf camp weeks which meant it was a set price for accommodation, daily surfing lessons and free breakfast. The great benefit of doing a surf camp week is a lot of other people staying in the hostel are also there for a week so you get to know people and make friends a lot easier due to the small, welcoming environment.
All of the guests I meet during my time while I was volunteering absolutely loved their stay and it was easy to see why. The instructors at the surf schools in Sagres are experienced and knowledgeable, and they know how to make learning to surf a fun and exciting experience.
So that's why I'd highly recommend booking yourself into a surf camp week, particularly if you're learning to surf.

When to surf in Sagres
While there are some Sagres surfing spots that are great all year round, largely the conditions are going to depend on various factors, including the season, swell size, wind direction, and tide.
In general, the best time to surf in Sagres is during the autumn and winter months when the waves are more consistent and powerful. During this time, the Atlantic Ocean sends larger swells towards the coast, making it a prime time for surfing in Sagres. The waves in winter can be a bit gnarly though so steer clear if you're a beginner.
It's important to keep in mind that wind direction plays a crucial role in determining the surf conditions. East and southeast winds tend to create choppy and less favourable conditions, while northwest and west winds create clean and offshore waves that are ideal for surfing.
Tides also have a significant impact on surfing conditions in Sagres. The ideal time to surf is during low or mid tide when the waves are at their best. High tide can create more challenging conditions, and it's important to be aware of the tide times when planning a surfing session.

How to get to Sagres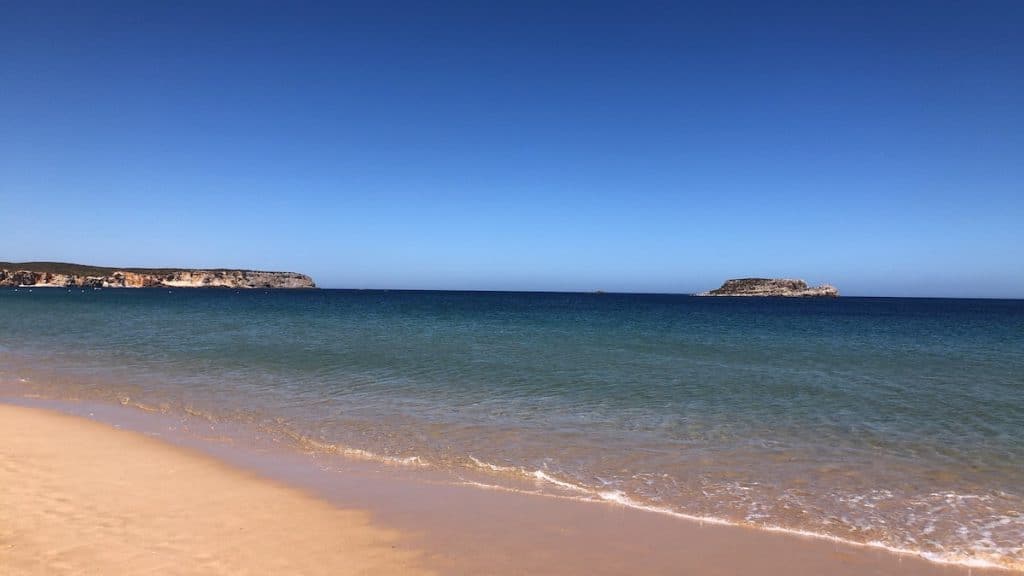 Getting to Sagres is relatively easy as it is well-connected to the rest of Portugal.
If you are flying in, the nearest airport is Faro Airport, which is about 120 kilometres away. From the airport, you can take a taxi (which would be quite expensive so I wouldn't recommend this option), bus or rent a car to get to Sagres. Renting a car is a great option if you think you're going to need it to get to the different beaches with you're surfing equipment.
If you're planning on doing a surf camp week then you can easily get away with not having a car to get around.
You can also book an airport transfer in advance that will take you from the airport directly to your Sagres accommodation. I found this to be the best option as it was a lot quicker than getting the bus and it works well if you're not renting a car.
Getting the bus is certainly the most affordable option if you're travelling to Portugal solo or on a budget. There are regular bus services from Lagos to Sagres, which take about 2 hours then you'll need to catch a second bus to get to Sagres. You can also take a train to Lagos and then take the bus to Sagres which works out even cheaper but it does take about an hour longer.
Another option is to fly into Lisbon Airport, which is about a 3-hour drive away from Sagres and it is possible to catch a bus from there. This works well if you're planning on spending a day or two in Lisbon or you happen to get a much cheaper flight, otherwise, stick with flying into Faro.
If you are driving, you can take the A22 highway, which connects Sagres to the rest of the Algarve region. The drive from Faro to Sagres takes approximately an hour and a half.
Overall, getting to Sagres is easy and convenient, and the journey itself is a beautiful one, with stunning coastal views along the way.

Getting around Sagres
The good news is that Sagres itself is a pretty small place so it's very easy to get around on foot or by bike. There are different places you can hire bikes in Sagres town or your accommodation or hostel might even offer some bikes.
If you want to explore the surrounding areas or you're travelling with a surfboard, then the best way to get around is by car. It would be best to book in advance and then you can pick up the car directly from Faro Airport.
Another popular option is to take a taxi, which is a convenient way to travel around the town. However, it can get pricey if you need to travel around frequently so it's best just to use a taxi as your mode of transport every now and then.

Where to stay in Sagres

When planning a trip to Sagres, choosing the right accommodation can make all the difference. As you've probably figured out by now, Sagres is small. When it comes to deciding where to stay, it will largely come down to your budget or whether you plan to do a surf camp week.
No matter where you choose to stay in Sagres, you're sure to find the perfect accommodation to suit your needs and budget, making your stay in this beautiful coastal town a memorable one.
Best surf camps in Sagres
Best budget accommodation in Sagres
Best luxury accommodation in Sagres

FAQ: Surfing in Sagres
When is the best time to visit Sagres?
If you're planning a trip to Sagres, you're probably wondering when the best time to visit is.
The peak season in Sagres is during the summer months, from June to August when the weather is warm and sunny. This is the perfect time for beach lovers and water sports enthusiasts to visit. It is also a good time for beginner surfers to visit as the swells aren't as intense but the beaches can be a bit busier.
If you prefer a quieter and more peaceful atmosphere, it's best to visit Sagres during the shoulder season, which is from April to May and from September to October. The weather during this time is still pleasant, and the beaches are less crowded which makes it a great time for surfers to visit.
However, if you're a surfing enthusiast with more advanced surfing skills, then the best time to visit Sagres is during the winter months, from December to February. The waves are bigger and more consistent, making it the perfect time for experienced surfers to catch some great waves.
No matter when you choose to visit Sagres, you're sure to enjoy its laid-back charm and natural beauty.

Is Sagres good for surfing?
1000x yes!! Sagres is one of the top surf destinations in Portugal and for good reason. With its unique location at the southwestern tip of the country, the area benefits from consistent swell and varied surf breaks that cater to all levels of surfers. From the beginner-friendly beach break at Tonel to the more challenging reef break at Beliche, Sagres has something for everyone.
But it's not just the surf breaks that make Sagres a great spot for surfing. The natural beauty of the area is breathtaking, with stunning cliffs and beaches that provide a dramatic backdrop to your surf sessions. And when you're not in the water, there's plenty to explore.
Whether you're a seasoned pro or just starting out, you're sure to have an amazing time catching waves in this beautiful part of Portugal.

Conclusion: Surfing in Sagres
Overall, the surfing in Sagres is top notch and you're bound to have an awesome getaway in this small town, no matter you're surfing ability! The area is relatively unspoiled, with vast stretches of rugged coastline which makes it beautiful to explore even when you're not surfing.
You'll find a range of surf schools and surf camps catering to beginners and experienced surfers alike. Whether you're looking to take your first lesson or fine-tune your skills, there's a program to suit your needs.
With its perfect combination of consistent waves, warm water, and stunning scenery, it's no wonder that Sagres has become a mecca for surfers from around the world. So whether you're a seasoned pro or just starting out, pack your bags, grab your board, and get ready for an unforgettable adventure in one of the world's most beautiful surfing destinations.